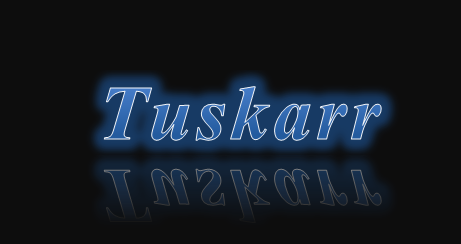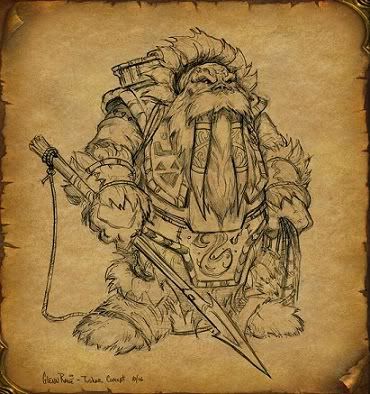 Foreword
*Note: This is my first guide and I'm not very familiar with the applications avalible so it may seem a little low-tech, your comments on how to make the guide more sophisicated are welcomed.* Tuskarr is a newly added hero of Dota Ver. 6.70. Tuskarr is a Strength caster hero, an excellent ganker and initiator, burst damage dealer and also can be played as a support and tanker. Most people feel that Tuskarr is a too powerful hero and have OMFG IMBA skills and animation. Hence, in most games I have played so far, Tuskarr is nearly immediately picked and there are at least 5 players fighting for this hero and desparately clicking him before the cooldown even ended. However, he got nerfed badly in 6.70b and 6.71, reducing his popularity.
=-=-=-=-=-=-=-=-=-=-=-=-=-=-=-=-=-=-=-=-=-=-=-=-=-=-=-=-=-=-=-=-=-=-=-=-=
Introduction
Tuskarr was originally Huskar's brother who migrated to the North Pole cuz he couldn't stand the heat from his spears. Years later, Huskar informed him of one great job he found with the Sentinels and asked him to join in. Now, Tuskarr brings the entire North Pole to DotA in his pursuit to eradicate the evil Scourge. He is able to fire ice pillars and roll huge snowballs to attack, summoning huge snow storms to hinder his enemies. His immense strength allows him to bitch-slap scourge bastards into the air and let them fall flat onto the ground. Indeed, Tuskarr takes the winter in Dota to a whole new level.
=-=-=-=-=-=-=-=-=-=-=-=-=-=-=-=-=-=-=-=-=-=-=-=-=-=-=-=-=-=-=-=-=-=-=-=-=
Alt-Tab Guide
Quote:

Skill Build:

Ice Shard
Snowball
Ice Shard
Snowball
Ice Shard
Walrus Punch
Ice Shard
Snowball
Snowball
Stats/Frozen Sigil
Walrus Punch
Frozen Sigil
Frozen Sigil
Frozen Sigil
Stats/Frozen Sigil
Walrus Punch
Stats



Starting Item:







x2

x2


Core:











Situational:







Luxury:






=-=-=-=-=-=-=-=-=-=-=-=-=-=-=-=-=-=-=-=-=-=-=-=-=-=-=-=-=-=-=-=-=-=-=-=-=
Pros and Cons
Pros:
Excellent ganker and initiator
Top candidates for first-blood without tri-lanes
Maintain killing potential throughout entire game despite a caster hero
Good animation
Item independent (function well without being well farmed)
High Aggility gain (for strength hero)
Can combo with almost any hero
Ideal Pub-Stomper
Got the best brother in the world
Cons:
Low Str and Int gains
No true disable
No escape mechanism
Silences and other disables completely rapes him
Useless when alone (especially late-game)
BKB+Lifesteal shuts him down (thumbs up for Naix)
Not one of those heroes who can change the flow of the game
Not really useful in competitives
In a brother-VS-brother situation, he would most likely die
=-=-=-=-=-=-=-=-=-=-=-=-=-=-=-=-=-=-=-=-=-=-=-=-=-=-=-=-=-=-=-=-=-=-=-=-=
Hero Details
Strength: 23+2.3
Aggility: 23+2.1
Intelligence: 18+1.7
Affiliation: Sentinel
Armour: 3.2
Damage: 50-54
Movementspeed: 305
Attack Range: 128(Melee)
Attack Animation: 0.36/0.64
Casting Time: 0.1/1
Base Attack Time: 1.7
Missile Speed: Instant
Sight Range: 1800/800
Tuskarr's starting stats are decent, overall stats gain are average, however, for a caster, his Int gain is below average and for a strength hero, his Str gain is pitiful. The thing that pulls up his overall stats gain is his Agg gain which is quite redundant. The damage is average for a melee hero but his excellent attack animation makes him a great last-hitter.
=-=-=-=-=-=-=-=-=-=-=-=-=-=-=-=-=-=-=-=-=-=-=-=-=-=-=-=-=-=-=-=-=-=-=-=-=
Skills:

Ic
e
Shards
Tuskarr compresses 5 shards of ice into a ball of frozen energy that damages all enemies in comes in contact with. If the ball comes in contact with an enemy hero or reaches its maximum range the shards are released, creating a barrier that lasts for 5 seconds.
Manacost: 120
Cooldown: 18/16/14/12
Damage: 70/140/210/280
Comments: I consider this one of the best skills in DotA. First, i deals a considerable amount of aoe damage, easy to aim, traps/blocks and scouts since u gains vision of the areas the blast passes through. Also, after it passes through an enemy hero(the first one it encounters in its path), the blast will stop and form the "C"-Shape barrier with the curved inner edge facing you.Hence, though being a great skill that traps enemy heroes, it does a shitty job of preventing them from chasing you,thus unlike Earthshaker's Fissure that blocks units, Ice Shard is not an escape mechanism(so stop spamming them when running from enemysc and low in health).One additional thing to note would be that the Ice Shards formed destroy trees around it, so you can't trap enemies in trees. However, this skill requires A LOT of practice to be used effectively(so you don't end up trapping yourself or blocking your ally) and strategicaly.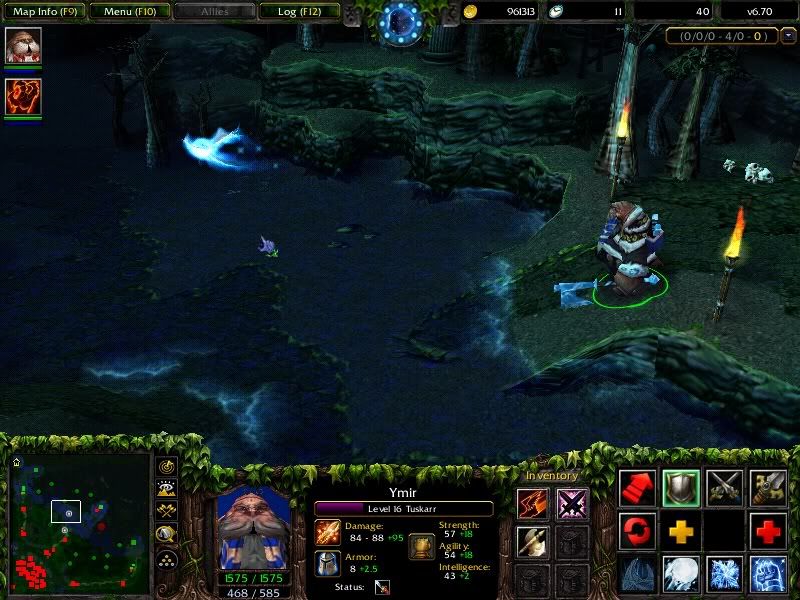 Here are some things to note about using the skill:
The blast has a max range of 1600, meaning after it travels this distance, it will stop and form the barrier.
To make it simpler:

The barrier can be use to block narrow routes and the river.
The barrier last 5 seconds.
Sno
w
ball
Tuskarr and any nearby allied heroes roll in a quickly growing snowball towards the target enemy unit. Any victims caught in the snowball's path take damage and are briefly stunned; the final target takes 40 extra damage and 0.25 extra stun duration.
Manacost: 75
Cooldown: 40
Damage: 40(80)/80(120)/120(160)/160(200)
Stun Duration: 0.25(0.5)/0.5(0.75)/0.75(1)/1(1.25)
(*) values are for the final target
Comments: Tuskarr only and probably the game's best initiator skill. Unlike similar skills like Burrowstrike and Timewalk, Snowball brings along ally heroes at the start of the Snowball. Hence, you would less likely face a situation whereby you find yourself surround by 5 angry enemy heroes after you initiate the fight whereas your teamates are still lagging behind. It is also an excellent chasing skill to catch up with fleeing enemy heroes because generally, you cant run from the Awesome Snowball. However, to cast Snowball, you must select an enemy target so unless there are enemy creeps on your fleeing route, this skill is not an escape mechanism. Also note that do not stand close to any ally heroes that may not want to part of the ride(such as those in the reds), nothing is worst than an unwilling hitchhiker.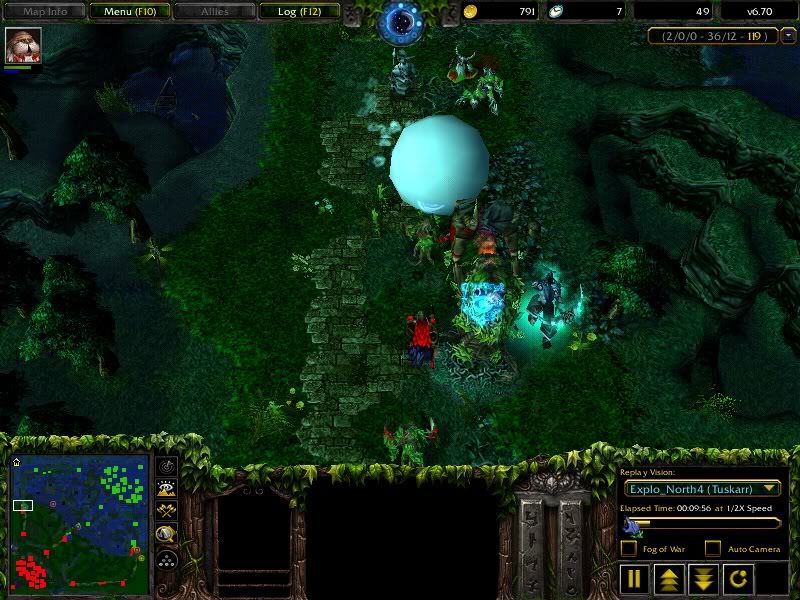 Here are some things to note about using the skill:
If only Tuskarr is in the Snowball, it will travel at a speed of 1.5x Tuskarr's MS.
Snowball stop chasing its target after 3.25s or when the target is dead.
Snowball rolls over hills and flatten trees in its path.
The Aoe if Snowball is 200 and it increases by 40 every second.

F
rozen Sigil
Tuskarr summons a Frozen Sigil by calling upon the deepest cold of winter. The Sigil creates a snowstorm which slows all enemy units within 600 range.
Manacost: 75
Cooldown: 50
Duration: 30
AS/MS Slow: 30%(10%)/40%(15%)/50%(20%)/60%(25%)
Note: *(*) - AS Slow(MS Slow)
Comments: Frozen Sigil might be a useful or useless skill depending on your situation but generally, this is an anti-carry, anti-chaser skill that can also be used to scout, chase works better against melee heroes. When activated, it works like Omni's Degen Aura only larger aoe, it is not the best skill for Tuskarr but this is his only skill that might save his Walrus Ass when ganked.
Here are some things to note about using the skill:
Frozen Sigil automatically follows Tuskarr if not given an order after summoned (it will stop following you if u casted Snowball after summoning it).
The Sigil flies, has a 310 MS, 300 HP, a 400/400 vision, and gives a 90/100/110/120 gold bounty.
It gives a snowing effect and a light blue glow to nearby units and trees.

Wal
r
us Punch
Tuskarr prepares his mighty Walrus Punch; his next attack will do a critical strike and launch the victim into the for one whole second air. The victim will be slowed upon landing.
Manacost: 50/75/100
Cooldown: 30/24/18
Slow Duration: 2/3/4
Comments: This skill makes Tuskarr a great burst-nuker and cause him not to lose out even in late game(for a caster hero). First, casting this spell gives you a buff causing your ice axe/knife(whatever) to glow light-blue. Your next attack will do 2.25x critical and send the target flying and slow him by 40% upon landing. This does not sound like much but Walrus Punch will do 4x critical to the target if its health is below 50% which is equivilant to Motred's ulti maxed out at level 16. Just remember the buff last only 10 seconds so if you don't land your bitchslap by then, you're out.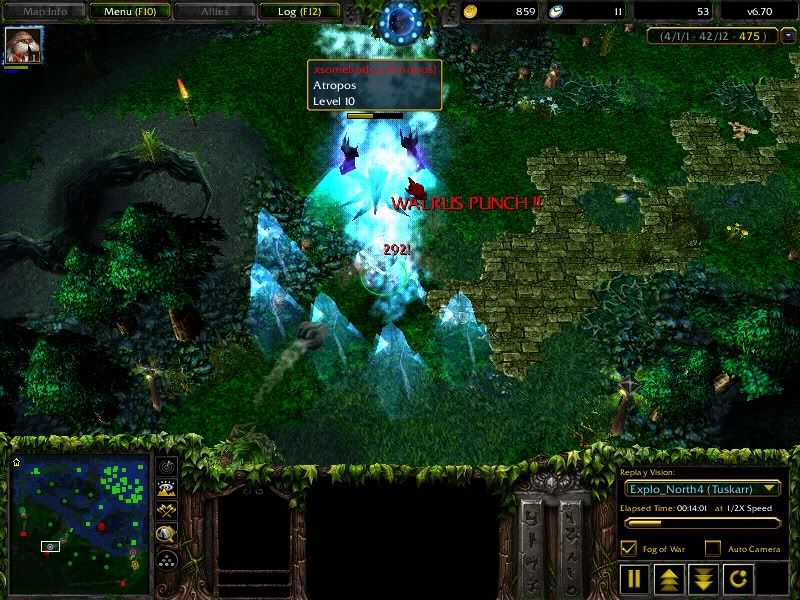 Here are some things to note about using the skill:
The critical damage is physical
Walrus Punch does not miss.
Walrus Punch does not work on allies nor towers.
=-=-=-=-=-=-=-=-=-=-=-=-=-=-=-=-=-=-=-=-=-=-=-=-=-=-=-=-=-=-=-=-=-=-=-=-=
Skill Build
Lv1
Ice Shard
Lv2
Snowball
Lv3
Ice Shard
Lv4
Snowball
Lv5
Ice Shard
Lv6
Walrus Punch
Lv7
Ice Shard
Lv8
Snowball
Lv9
Snowball
Lv10
Stats/Frozen Sigil
Lv11
Walrus Punch
Lv12
Frozen Sigil
Lv13
Frozen Sigil
Lv14
Frozen Sigil
Lv15
Stats/Frozen Sigil
Lv16
Walrus Punch
LV17+
Stats
Justifications: Ice Shards is taken at level 1 since it can be used to block creeps then Snowball is taken cuz this two spells are your main ganking weapons. Walrus Punch should be taken when possible and Ice Shards is maxed out first since it does a higher damage. The problem is whether to take Frozen Sigil or Stats at level 10. My recommendation is if nothing is wrong with your current situation(means not being excessively ganked/dying and etc.) Stats is the better choice. If not, Sigil might just save you from the extra dyings that you don't really need.
No Frozen Sigil?
Well, this could work since the Sigil has no effect on your killing potential if you have sufficient movement speed. When I tried this out at one game, I was completely raped by Drow Ranger and Naix since there was little I could do to stop them. When I finally added my Frozen Sigil at level 22, all it took DR was 2 hits to kill it and another 120 gold had been added to my bounty. Hence, I highly reccomend against this no Sigil skill build.
=-=-=-=-=-=-=-=-=-=-=-=-=-=-=-=-=-=-=-=-=-=-=-=-=-=-=-=-=-=-=-=-=-=-=-=-=
Item Build:
Build 1:





x2

x2
A beginner's build, has everything you need to lane effectively. Branches to make your Magic Wand and Gauntlets to build your core. Additional regen items for a better experience.
ALMOST
fool-proof.
Build 2:






A risker build than the first one but much more efficient as almost all items are need to build your core. However, Magic Stick may not be a suitable substitute for the Clarity Pots. Might need some mana management.
Build 3:

The naked bottle, favourites of all solo-mids. Not recommended unless with adaquete laning skills. Works better if accompanied by other items (if you are lucky enough to random Tuskarr).
Core:





Pretty simple yet effective core. Perseverance for passive regen, Magic Wand for active. Bracers for stats and TP for map control, get-aways and lets you gank effectively.
But why Phase Boots?
Footwear:

VS

VS

VS

BoT is immediately rejected - too expensive. The ones you really need to consider is Arcane, Phase or PT. If you try it out, you will realise that the Core provides sufficent mana regen or Tuskarr so Arcane is not needed, besides, 99% of the time, theres a better Arcane Boots candidate than you in your team already. So lets compare PT and Phase, both give 60MS but Phase Boots has an additional ability that lets you move faster and not be blocked. Consider how many times you will find yourself trapped in between creeps and your Ice Shards during ganks, you will need this. Futhermore, Phase gives you +24 dmg. Thats 96 more dmg when you Walrus Punch someone. Meanwhile, Bracers provide you with enough stats and the AS from PT is not really needed since you are not a carry.
Situational Core:



Urn:
Provides bonus hp, regen and a useful active ability, excellent replacement for Magic Wand or a second Bracer
Medallion:
Makes your ulti does a shitload of damage especially in early game. Extra armour also useful. Works better with skills like Amplify Dmg and Meld
Bottle:
Ideal item for roamers and a suitable replacement for perseverance for those anti-fury people
only if user is pro enuf.
Ring:
No self respecting caster hero should go without this item, gives survivalbility and mana regen in early game. Due to its popularity, it is not needed if 2 teamates alreadly has it.
Wards...? Where are they?:
99% of the time someone in your team is already warding. You should only ward if you are rich enough or no one else in your team does it.
Extended Core:



*The Extended Core Items are those you get after your core is complete. They can be used to build your luxury, bought as a pre-core item for certain purposes or just for some extra damage and stats.
Quarterstaff:
Used to build Forcestaff or Lothar's. Preferably, get the other components first before this item.
Mithril Hammer:
Gives lots of damage. The second Extended Core item i would usually get. Can be used to build BKB and Desolator. Normally, you can get this after a successful team-fight and downing a tower.
Broadsword:
Used to build BFury and BladeMail.
Claymore:
Used to build BFury and Lothar's. Rush this item even if it means sell some of your less-useful Sit-Core.
Battle Fury:
The first Extended Core item that you must get. It is so useful that it can actually be included inside the core. Hasten your farming and let you push creep super-fast with a WarlusP Criti + Cleave combo.
Ogre Axe:
Gives more HP and Dmg. Used to build BKB or SnY. I often consider this a pre-core item if you farm well enough.
Luxury:






Black King Bar:
BKB is pretty much self-explanatory, more hp, more dmg and a nice active skill that prevents you from being disabled while bitch slapping someone half way.
Guinsoo:
Tuskarr doesn't have a disable. No reason not to get one.
Blade Mail:
Get this when you find yourself being the center of attention in every teamfight. The spikes produced from this shiny armour will make staring at you hurt a lot more.
Assault:
Makes you a much better Walrus. Only drawback this the high cost. Do not get this if someone in your team already does.
Hearts:
A core I usually won't get because you do not benefit much from it simply because you are not a tanker. Nevertheless, it is cool to run into the forest with red hp and come back a while later in green.
Sange & Yahsa:
Thanks to 6.72, SnY was newly introduced as a non-orb effect item. With this you can safely get this awesome item without trading it for other orb effects. MS and Str are what you really need from SnY but the bonus AS and maim are useful too and it comes at a great price.
Miscellaneous Items:
Mobility Items:

VS

VS
Accidents with Ice Shards whereby the user traps himself also happens a lot so he needs an item with an escape mechanism for survialbility. His only initiator skill is Snowball which has a long cooldown, so what happens during the 40 seconds? You die....
So Tuskarr needs a mobility item to have better maneuverability in the battlefield.
Lothar's Edge:
Lothar's is the best choice for Tuskarr since it provides addintional damage which increase the intensity of his bitch slap. Invisibility is also an easy-to-use escape mechanism (note that it can be replaced with bottle[invis]). Only problems are that you can still trap yourself with Ice Shards and it can be easily countered by gem. *IMPORTANT* The Backstab Dmg from Lothars do not stack with the criti from Tuskarr's ulti. So pls rmb to cast a spell or wait for the invis to wear off before attempting to bitch-slap someone.
Forcestaff:
Less damage than Lothar's but in exchange it is cheaper, increases your mana pooland difficult to counter. Also does something Lothar's doesn't: save your ass when you get trapped somewhere and let you move through cliffs. Needs practice in timing or you might end up going the wrong direction.
Kelen's Dagger:
Much more useful than Forcestaff and Lothar's. No damage but is considerably the cheaper choice. Blink Dagger also have much more strategic uses: e.g being chased by low hp enemy, Tuskarr activates Warlus Punch and blinks back bitch slapping the guy instantly killing him with the 4x crit. If Lothar's was used, you might be vulnerable to aoe nuke and you might embarrass yourself by sending you/the enemy in the wrong direction because your timing was off if you used Forcestaff. Only problem is that you cannot use it within 3sec of recieving hero damage.
Orbs:

VS

VS

Desolator:
Gives a shit-load of damage and gives a nice buff thats cuts armour. Goes well with your bitchslap.
Helm of Dominator:
In whatever situation, lifesteal had always been a great complimentary to crits, especially to one that does 4x Dmg. Also provides some damage itself and a nice active ability. No need to upgrade to Satanic.
Diffusal:
This is bought solely for the purpose of gettng rid of annoying buffs and slowing enemy heros. Not really worth its cost. Get only if you really need it.
Other Orbs....?:
REJECTED.
=-=-=-=-=-=-=-=-=-=-=-=-=-=-=-=-=-=-=-=-=-=-=-=-=-=-=-=-=-=-=-=-=-=-=-=-=
Ymir the Tuskarr
Author:
Reddeath56
Map Vers.: 6.70
Ice Ice Baby!
Huskar's Brother
Date Posted:
12/28/10
Last Comment:
28/12/2010
Total Votes:
0
Current Rating:
0.00
Views:
4728